It didn't take long for Eli Tomac to get back on the right track after his disappointing 13th at the opening round of the Monster Energy AMA Supercross Championship just three days ago when he finished 13th. Tuesday night, the defending champion returned to the top step of the podium after a solid performance at round two, held at the same venue, NRG Stadium in Houston.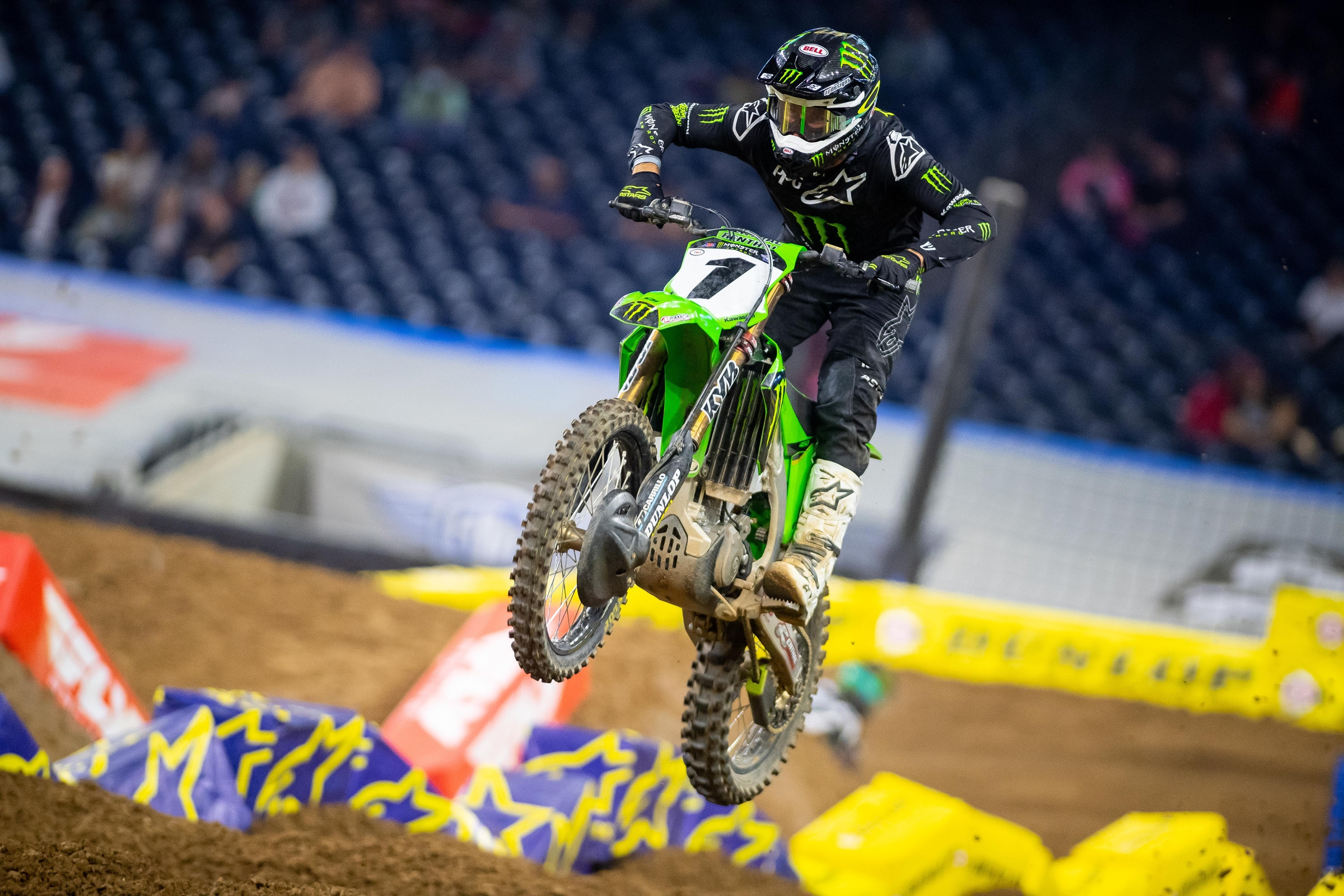 For Cianciarulo, the day started similar to the first seven rounds of his impressive rookie season last year by setting the fastest qualifying time in the 450SX class, while teammate Tomac followed behind qualifying in seventh place heading into the night program.
Once again both Cianciarulo and Tomac would lineup together for the second 450SX heat race of the night. As the gate dropped, the No. 9 KX™450 of Cianciarulo rocketed out the gate to a second place start, but a jam-up in the first turn shuffled him back to fifth place while teammate Tomac snuck up the inside. As the heat race progressed, Tomac and Cianciarulo would battle one another for third and fourth place, until Cianciarulo decided to uncork a massive jump, clearing a quad at the end of the second rhythm lane to pass his teammate which is where they would ultimately finish, qualifying into the main event.
As the gate dropped on the 450SX Main Event, Cianciarulo once again launched his KX450 out in the front of the pack setting a blistering pace with the leader, but right behind them, the 2020 Monster Energy Supercross defending champ was pressing hard and ready to capitalize. On Lap 5 Cianciarulo washed out the front end in the sand sweeper just past the mechanics' area and remounted in 14th. Now in second place, the No. 1 KX450 of Tomac began hunting down first place, when the sand sweeper section once again claimed another victim, propelling Tomac into the lead. The defending champ would lead the rest of way to claim his first victory of the 2021 season while Cianciarulo would finish 12th.
The win on Tuesday night gave Tomac sole ownership of sixth place on the all-time supercross wins list with 35 total wins in the premier class. Just ahead of him in fifth place on the all-time supercross wins list is Kawasaki legend, Ryan Villopoto with 41 total wins.
Eli Tomac: "I would be lying to you if I told you that I wasn't a little bit freaking out coming into today. Starting the season out 16 points in the hole is not something you want to do, but tonight proved that the field is incredibly deep and anything can happen. I can't thank the entire Monster Energy Kawasaki team enough for busting their butts the past couple of days for me. I didn't have the best qualifying sessions today and even the heat race, but they got my KX450 where it needed to be for me heading into the main and the results showed. It's crazy to think we are now only four points out of the lead and plan to just carry the momentum from here."
Adam Cianciarulo: "I had a good day going and was really starting to feel like myself tonight. I started the day off right by qualifying fastest heading into the night show and then in the heat race I felt like I had really good speed and was even able to pass Eli (Tomac) for third. In the main event, Chase (Sexton) and I had a hot pace going in those opening laps, but I made a slight mistake in the sand sweeper and the rest was history. I hit my hand that I got worked on during the offseason pretty good which made it hard to be aggressive the rest of the race and I just knew I needed to manage. We'll take the extra couple of days to rest to be ready to go on Saturday."
Austin Forkner: "Today was clearly not my day. I felt decent overall in qualifying but had a massive get off in the sand section, and then in my heat race I was bumped at the end of the long start straight sending me flying off the track and over the bars. I was however pumped that I was able to charge all the way back to fourth in the heat after being dead last on the start of lap one. In the main event, I got a good jump off the start and was in second but at the end of the whoops had a scary moment which caused me to lose some positions. I knew I had to get going quick before the leader ran away from me, and when I caught back up to second place and took him high in a corner, he fell over on me taking us both down. I did everything I could to regain positions but could only manage sixth. Today wasn't my day but were only seven points down and will try to be better on Saturday."
Jo Shimoda: "My day was pretty consistent. I qualified in seventh place and in my heat race I got held up by some slower traffic and was only able to manage fifth. In the main event, I did not get a very good start, but like this past Saturday, I knew that I needed to just keep clicking off my laps and the race would come to me. I ended up fifth overall which is pretty good and am fifth in points, but I know I have more in me and want to get on the podium."
Words: Kawasaki
Please follow and like us: