VMXdN Promoters Dave King and Doc Wobbly have been working tirelessly on the newly formed Evo race at the legendary Foxhill Moto Parc, Swindon, U.K and it's set to be an amazing weekend of racing and 80's and 90's nostalgia with eight classes racing over the two days in and around the famous valley circuit.
There will be a host of younger riders racing, who were just starting out their motocross career when the British GP's of the nineties at Foxhill were in their prime and the buzz about the event has been growing on social media with racers posting pictures of their bike builds. The likes of British Bulldog Brad Anderson and Jake Nicholls who have both represented Team Great Britain at the MXON will be lining up behind the gate to go into battle with other ex GP riders of that generation like Tom Church, Ryan Voase, Elliot Banks Browne, Jordan Booker, Mel Pocock, Neville Bradshaw and Lewis Tombs. A crop of current British championship racers such as Tom Grimshaw, Sam Nunn and Jayden Ashwell will also be going retro and joining the 'evo-lution' fun.
It's the main VMXdN Foxhill Team race that will be the biggest draw however with varying nations and U.K regions putting out a three rider team. The all star American team of Ryan Villopoto, Zach Osborne and Mike Brown will be formidable and hard to beat and a huge spectator pull for the inaugural event but they'll have a target on their back with the likes of Kurt Nicoll, Mel Pocock and Brad Anderson (Team GB), Gordon Crockard, Neville Bradshaw and Graeme Irwin (Team Norther Ireland), Bryan Mackenzie, Gavin Robertson, Brad O'Leary (Team Scotland) and Mark Eastwood, Phil Mercer and Jake Nicholls (Team Fairhurst Wessex) to name but a few all gunning for the win with plenty of experience and laps under their belt around the iconic circuit. Teams from Wales, Germany, Denmark, Holland and Belgium, including former world number two Kevin Strijbos, will also be in the mix.
The live stream coverage from the VMXdN Foxhill will start from 11am on Saturday morning and will be a free to view service courtesy of support from leading motocross brands, Bell Helmets, Fly Racewear, Oakley, Seven, RFX and Michelin Tyres. Presenters Jeff Perrett and Ben Rumbold will be calling the action with riders and industry guests calling into the booth for a chat as well the team checking in with the low down from the paddock, trade area and out amongst the fans taking it all in along the valley.
Foxhill Schedule
Practice/Race order
Evo Ultra
Evo Plus
Evo Over 50's
Evo 125
Super Evo Open
Evo Open
VMXdN Foxhill Team Race
Super Evo 125
Saturday practice at 9 am
Saturday first race at 11.30 am
Sunday first race at 9.30 am
In USA timing – Saturday practice starts at 4 am Eastern Time in the morning thats 1 AM Pacific Time
Saturday first race starts at 6.30 AM Eastern Time or 3.30 AM Pacific Time
Sunday first race starts in 4.30 AM Eastern Time or 1.30 AM Pacific time !!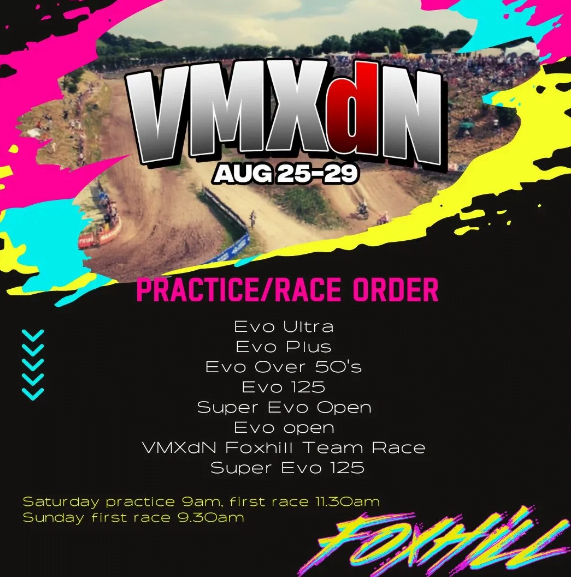 FREE LIVE COVERAGE OF MXDN FOXHILL down bellow !!
Please follow and like us: