Here is the list by the AMA that outlines the motorcycles which have been homologated and approved for competition in 2023 AMA Supercross, a thirty-four model index that includes standard-issue equipment, recently-released special editions, and a selection of two-stroke machines. Seven OEMs are represented, including Japan's "Big Four" of Honda-Yamaha-Kawasaki-Suzuki and the KTM Group's European alliance of KTM-Husqvarna-GASGAS.
The 250 Class list is fifteen motorcycles: seven standard 250cc four-strokes, four "edition" 250cc four-strokes, and four 125cc two-strokes.
The 450 Class list is thirty motorcycles: seven standard 450cc four-strokes, five "edition" 450cc four-strokes, three 350cc four-strokes, four 250cc two-strokes, and eleven eligible 250cc four-strokes.
AMA regulations require the OEMs or their distributors to declare the motorcycles they intend to race ahead of each season (section 1.1 in the 2023 rule book). The mandate states that at least 400 units must be available for sale to the public, with a minimum of 200 bikes required to be in the US by March 1 and at least 400 units by June 1. Approval is only for a limited eligibility period, either five years or when the brand decides to pull its support of a particular model, and can be subject to change as the season continues. The displacement rules make it possible for a rider to use a four-stroke 250cc bike in the 450 Class, but a 250cc two-stroke is not allowed to race in the 250 Class.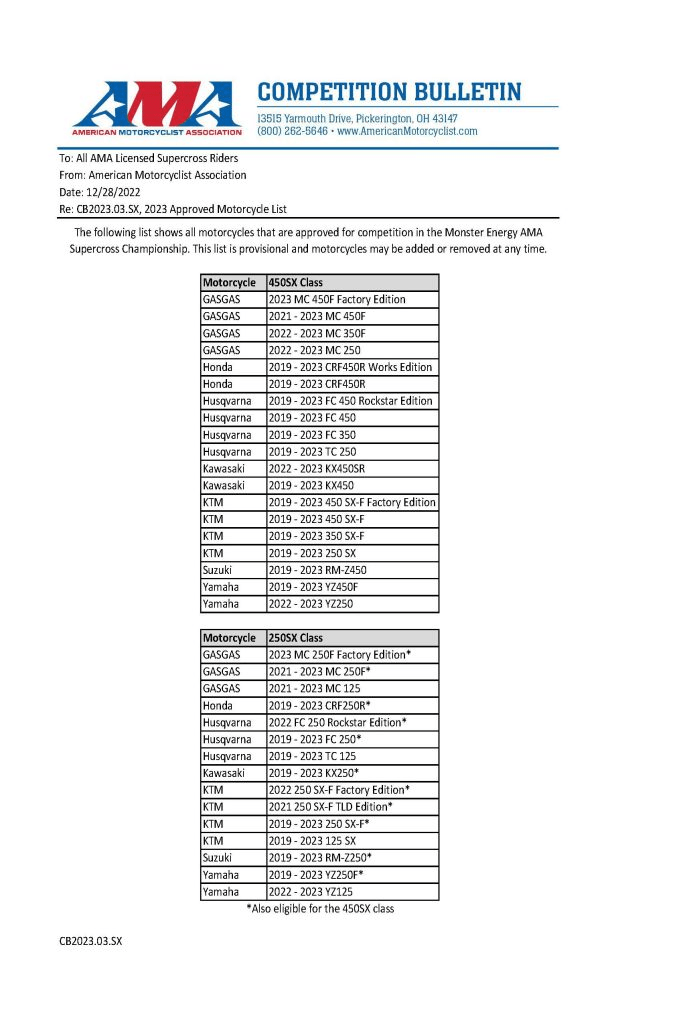 Please follow and like us: