It's fairly well known that Chase Sexto  is a Michael Jordan fan and has even rocked some custom @alpinestars gear themed off his legendary years with the Chicago Bulls. Well, now A-Stars has a limited edition kit based off it with a home and away style to boot! And what's the #63 stand for? 1963 was the year Alpinestars was founded.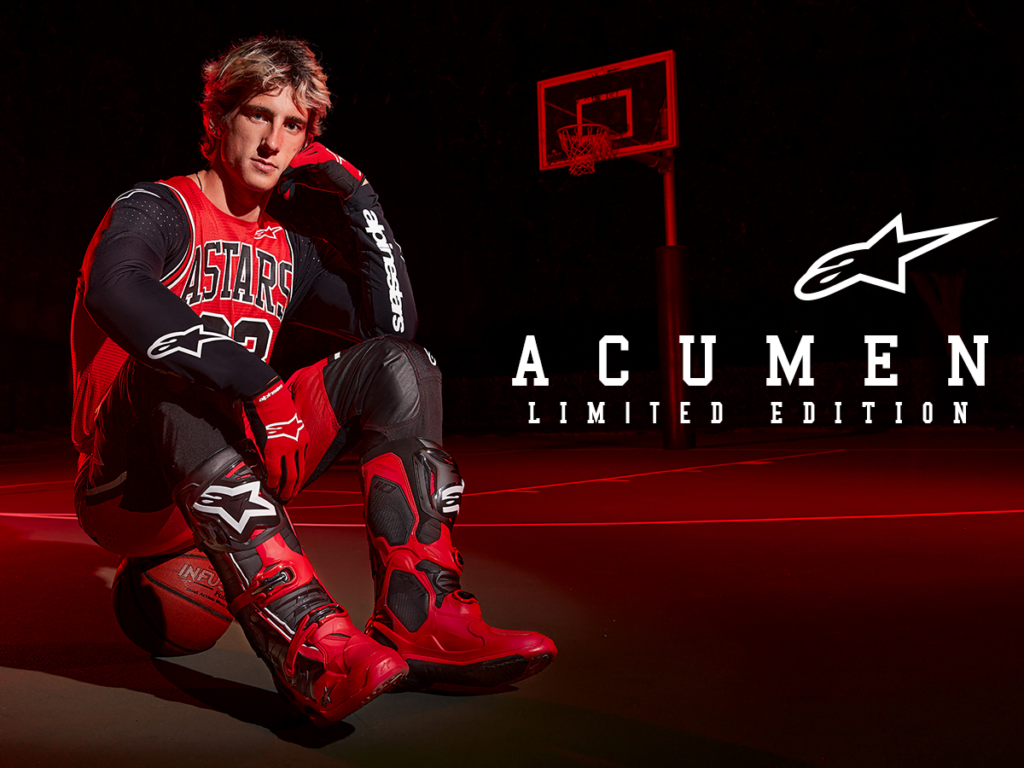 "Acumen" is the ability to make intelligent decisions under pressure and in the heat of the moment.  Sexton's acumen was on full display throughout the 2022 outdoor season as he continued to build a reputation for smooth, effortless, and unique style on the track. Chase Sexton made his pro debut with multiple indoor and outdoor Rookie of the Year awards and back-to-back AMA Supercross 250 East Championships. Now he's a prominent force in the 450 class with no sign of slowing down.
Inspired by Alpinestars' and Chase's shared pursuit of performance and motivation for enduring success, the Acumen Limited Edition gear set expresses that drive and dedication to succeed in a creative and unique graphic display.
The ACUMEN Techstar gear set is offered in two color combinations, representing both indoor and outdoor seasons. Visually different, yet identical when it comes to the demands of competition and performance.
 The S-M10 ACUMEN helmet is offered in a unique red finish which emphasizes the lines and architecture of Alpinestars' proven race helmet. The Tech 10 ACUMEN boots balance the instantly recognizable red-and-black color combination and include advanced technology and precise details to deliver the newest version of the most advanced race boot in the industry. The ACUMEN Limited Edition gear set is also available in youth sizes.
To kick off the Supercross season, the Acumen gear set will make its racing debut at Anaheim 1 and is now available for purchase ahead of the 2023 season. 
Find more here: Motocross / Offroad — Alpinestars
Please follow and like us: