According to the AMA's announcement, Bobby Piazza, a privateer, will not be participating in round 14 of the East Rutherford event and has been put on probation for six months due to an incident in the paddock during round 13 of the Monster Energy Supercross Championship at the Atlanta Motor Speedway.
Piazza came up with a brilliant idea at Daytona to have people pay $20 donations to rev his bike. The project has been a hit and helped get the privateer to races.
"It costs around $1,500 every weekend just to get there, whether you're driving or flying to all these rounds after sign up, fuel bill, hotels, all the other fun stuff," Piazza told NBC Sports. "At first, in Houston, I did a $20 donations and you'd get a free t-shirt because you're not allowed to sell t-shirts [in the paddock]. Then I had people take pictures with me and my bike.
"I had a couple of kids rev my bike and it went off pretty much there. People started digging it and then Daytona came around. I said, screw it, rev my bike for $20 donation. Try to get me to the next round."
In Atlanta, Piazza was reportedly asked to stop as officials deemed it to "compromise the safety of the event."
Here is the penalty from the AMA: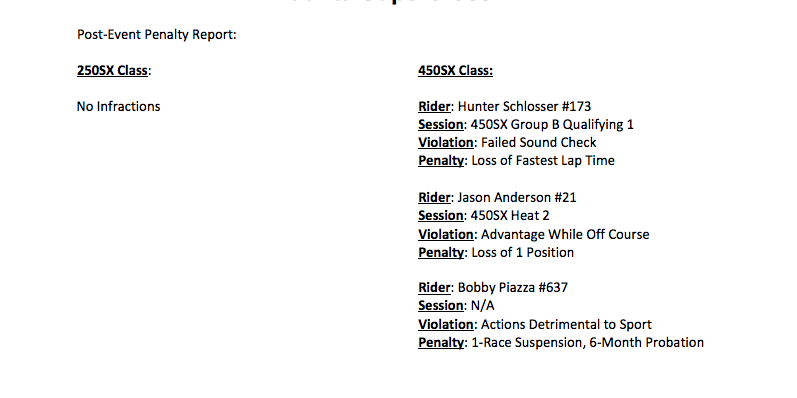 Please follow and like us: