The AMA Racing Rules for the 2023 season have undergone a significant change, as announced by the American Motorcyclist Association. According to our source and confirmed by the official rulebook, chest and back protection will now be mandatory for all participants in Youth Classes during AMA competitions. Additionally, it is strongly suggested for all competitors to wear this type of protection.
This new rule is aimed at ensuring the safety of young competitors and aligning with current industry standards. It is also a reminder for all riders to prioritize safety on the track and invest in appropriate protective gear. The AMA encourages all participants to review the updated rulebook and to make sure they are fully compliant before competing in the upcoming season.
Here is the full change.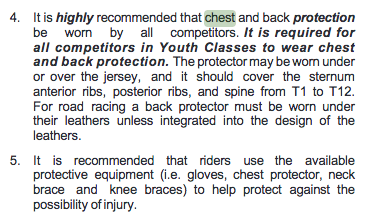 Please follow and like us: