While we know Can-Am for they side-by-sides, they were actually a motorcycle manufacturer first and it looks like they're going back to their roots with a Can-Am electric range of bikes.
Can-Am motorcycles were a big player in American motocross back in the 1970s. They even managed to win the AMA 250 National Motocross Championship with Gray Jones at the controls (as part of a one-two-three sweep of the Nationals with Jones, Tripes and Ellis). Then a year later, Jimmy Ellis won the 1975 AMA Supercross Championship. The never reached the pinnacle of success ever again— even though they sponsored Buck Murphy, Gary Semics, Rich Eierstedt, Tony DiStefano, Jeff Smith, Jimmy Weinert, Mike Runyard and many others. Eventually the Bombardier corporation shut down their motorcycle production line in 1987 to focus on ATVs, side-by-sides, watercraft and snowmobiles.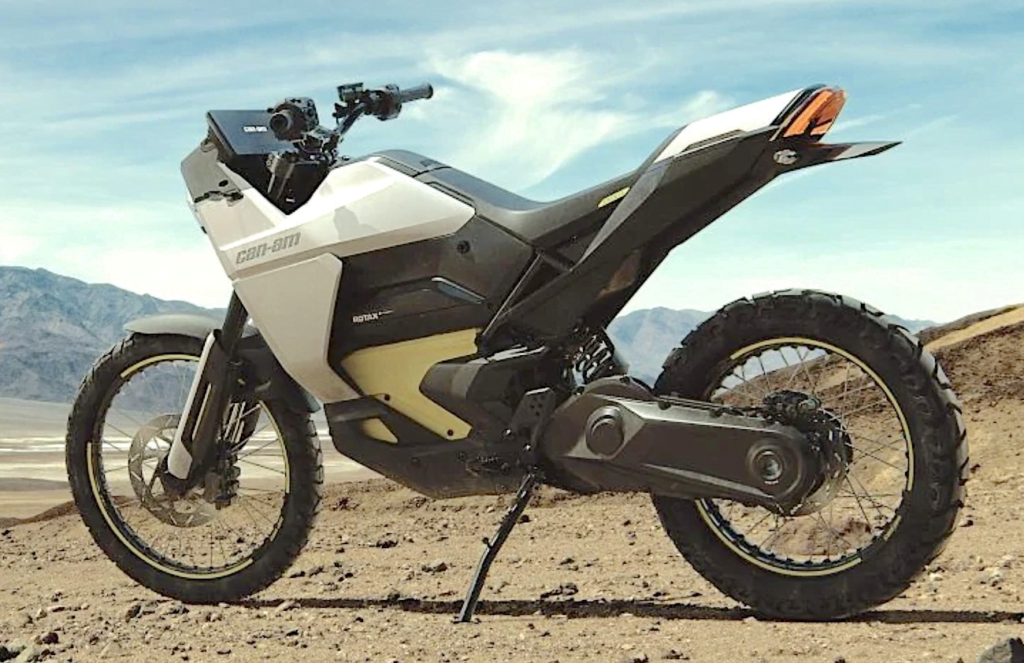 Can-Am have have revealed two fully electric motorcycle models, one a road-based machine called a Pulse and the other an off-road, rally-style beast called an Origin. Naturally we're more interested in the Can-Am electric off-road motorcycle which is sure to leave a few jaws on the ground. Did anyone see this coming?
Can-Am have released few details about the off-road focused machine with more information to come but they have confirmed a few. The Origin model with run an electric rotax motor (of course it will, after all, it is aCan-Am) and level 2 charging and a single-sided swingarm. It has long travel suspension, spoked rims, a rally-type fairing, tall seat and bashplate.
The styling and colour way look awfully similar to a more familiar Swedish brand off motorcycle which could see them be forced to change a few bits and pieces or risk legal action. The tyres will be soft off-road rubber and the handlebar is a single-piece design, not a road-based clip-on.
Many riders new to the off-road world will be unaware of Can-Ams influence in the motocross and enduro race scene through the '70s and '80s. They were often considered the leader in dirtbike technology and collected trophies in AMA Motocross and off-road events like the Baja 1000.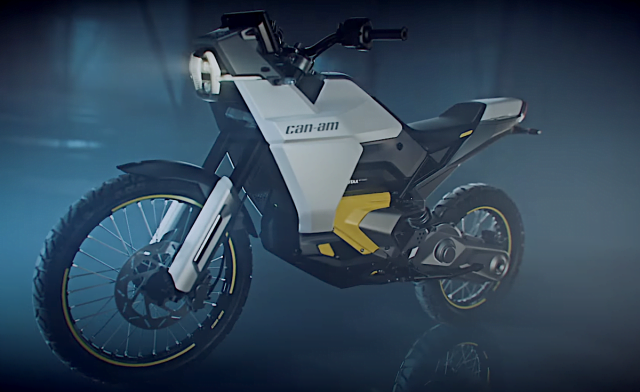 We expect to get more details soon on the Can-Am Origin but I wouldn't be hiding your breath that it will arrive on our Aussie shores any time soon. The backlog of customers waiting for Can-Am side-by-sides is massive so adding another unit to the production line will be a slow process. The concept is cool and the big questions like how long will a rally-style adventure bike battery last still linger. 
Please follow and like us: