Rieju eMR Electric Enduro Dirt Bike – The Spanish motorcycle manufacturer Rieju has caught us by surprise with the release of what looks to be an incredibly promising electric dirt bike, the Rieju E-MR.
Rieju says they are making a commitment to developing its Hard Enduro models and preparing for the future with the new Electric eMR. On the face of it, it is good to see the established Rieju platform (formerly GasGas as was) with an electric motor. Although the chassis has been around a while, it's a good one with KYB suspension and Nissin brakes.
The question mark (apart from why it has a petrol tank…?) is how the electric motor rides the dirt and how long it lasts – plus we're not clear if this is a prototype for the show or will be an actual bike you can buy.
"Great battery range" Rieju say with an electric motor which looks a lot like one they already use in some of their street models. It's also weighing it down a bit with a claimed weight of 120kg it is a bit beefy.
That said, if they can make sure the motor and battery are both reliable and work on the dirt, plus it has that claimed range, this bike is worth keeping an eye on as the market continues to grow.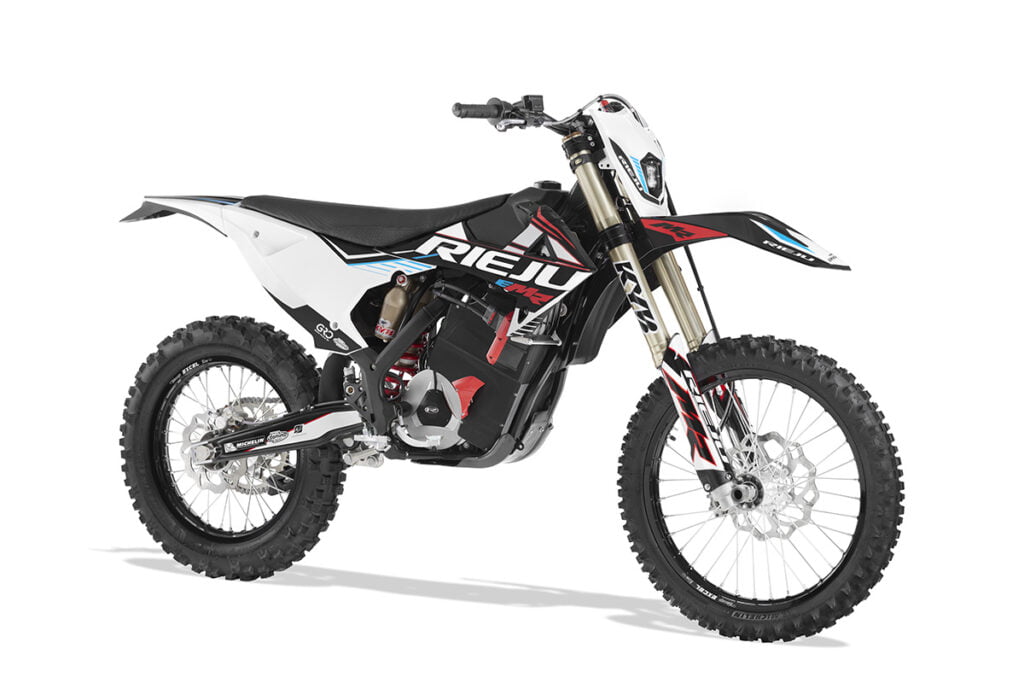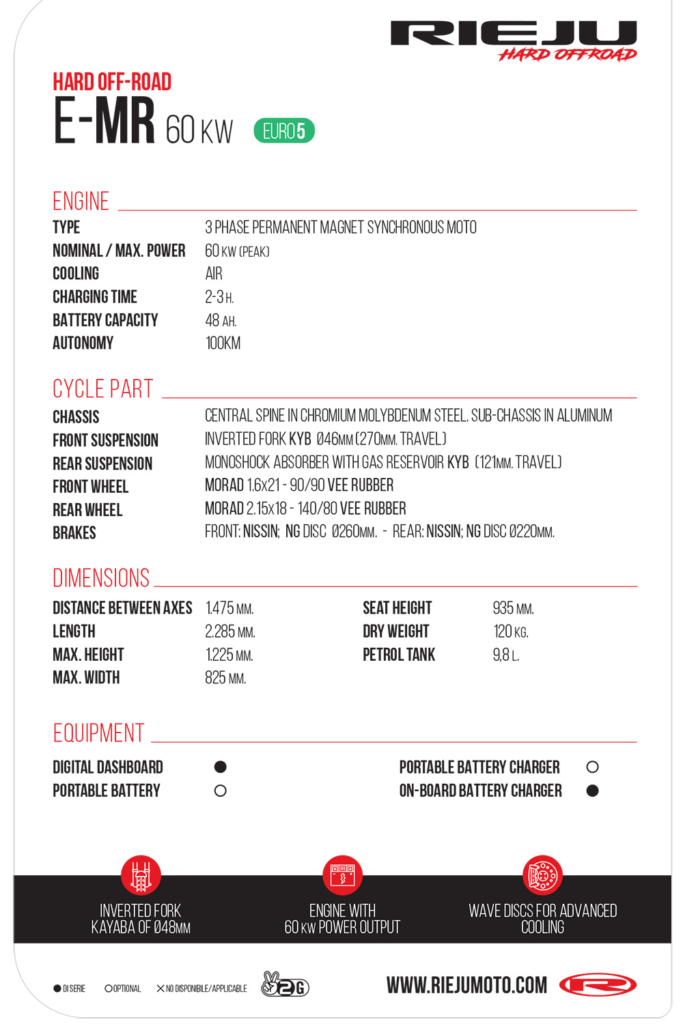 What We Know
We don't know a ton about the Rieju E-MR yet, but what we do know is that it looks almost identical to the steel chassis of Rieju's MR Racing and MR Pro models that come respectively in both 250cc and 300cc flavors for hard enduro riders. The E-MR is sporting a KYB fork with 270mm of travel and a KYB shock with 121mm of travel.
For the E-MR powerplant, Rieju is claiming an impressive peak power output of 60kW. Although the voltage has not yet been disclosed, the battery is claimed to be 48Ah and has a recharge time of 2-3 hours. It does not appear that the battery is interchangeable but it does claim to have a charger on-board, which is a very intriguing feature that we have recently seen on the new Surron Ultra Bee.
More specifications will be rolling in and expect to see more updates about the exciting new Rieju E-MR electric hard enduro bike.
From Rieju:
Showing a clear commitment to developing its Hard Enduro models and preparing them for the future, Rieju presents its new Electric eMR, a motorcycle that combines the virtues of one of the best Enduro platforms on the market with the silent running and zero emissions of its light and powerful electric motor with great battery range, which allows to enter unexplored territories in a sustainable way, performing as an authentic Enduro competition bike.
Please follow and like us: