Press Release
Long a cornerstone of Yamaha's off-road racing success, the lauded YZ250F has remained at the top of the ultra-competitive 250cc class for years, winning numerous press shootouts and more than a dozen Supercross and Motocross championships since 2014. The new 2024 YZ250F features extensive updates designed to further boost its class-leading performance and capability.
Underneath its sharp, aggressive new YZ styling lies the most refined, balanced and competition-ready YZ250F ever. A lighter, more compact chassis offers improved handling feel and more comfortable riding position, a revised intake path boosts mid- to high-rpm performance, and an advanced new generation Yamaha Power Tuner App is simpler to use and more intuitive than ever.
It starts with a completely redesigned aluminum bilateral beam frame based on its class-dominating YZ450F sibling, providing just the right amount of strength and flex for the perfect balance of stability and cornering performance. The result is a better handling machine with lightweight feel and increased front wheel traction, allowing the rider to enter corners with greater confidence and more line choices.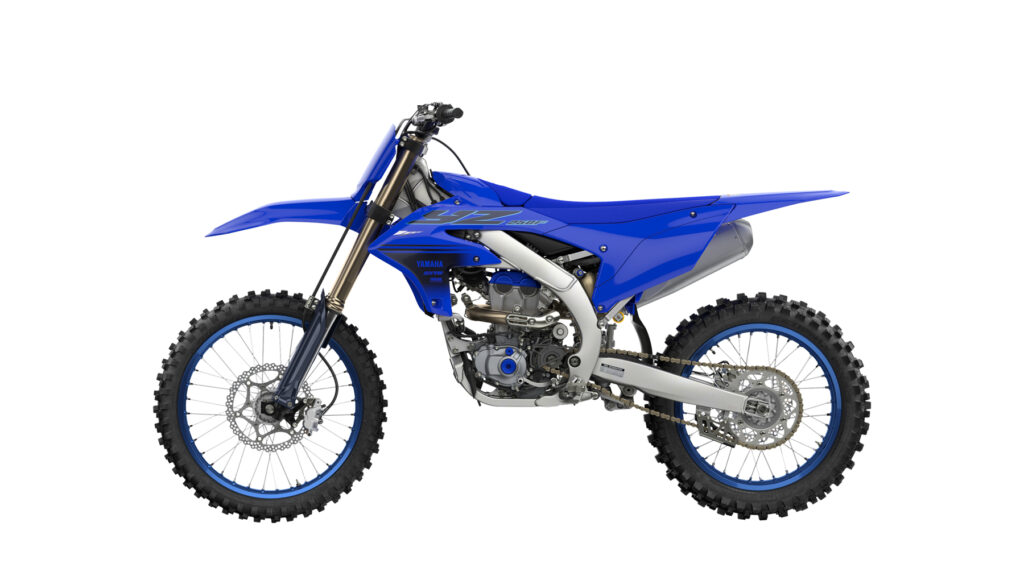 Additional chassis updates include revised suspension internals to match the new frame. Class leading, fully adjustable KYB® coil spring-type fork with speed-sensitive damping delivers exceptional balance between handling and bump absorption for championship-winning performance. The fork now also includes a hand-adjustable knob for quick, toolless compression adjustments. The linkage-type rear suspension features a revised KYB® shock, and combines with the updated front suspension to provide less pitch on corner entry/exit for improved stability.
Drawing further inspiration from the flagship YZ450F, the new 2024 YZ250F has a slimmer, flatter body design for enhanced rider movement, including a lower airbox, flatter seat and more narrow fuel tank and radiator shrouds. The rider triangle is also improved with increased legroom between the seat and footpegs for improved rider comfort.
Known for its broad, useable powerband and class-leading low-end and mid-range torque, the YZ250F's advanced four-stroke engine features a high-spec piston, aggressive cam profiles and forward positioned intake cylinder head layout. New for 2024, the updated body design now allows for a more efficient intake path which, together with revised ECU settings, results in even more mid- to high-end power.
To help riders fine tune that power to their liking, the new YZ250F is compatible with Yamaha's next-generation Power Tuner App, allowing detailed air/fuel mixture and ignition timing adjustments to be made on their smartphone, tailoring delivery to specific preferences or riding conditions. An intuitive new "Simple Tuning" slide bar further simplifies the engine mapping process to where riders can simply scroll between smoother or more aggressive power character settings for the quickest adjustments. The app can also monitor a range of data such as maintenance and system diagnosis, engine run time, lap times or log track set-up information. There's also helpful new engine and suspension tuning guides to dial in the perfect setup.
Additional features for 2024 include an all-new Traction Control System, which communicates wheel slip to the ECU to maintain ideal rear wheel traction. Three levels can be selected: HIGH, LOW or OFF. Also, an updated Launch Control System now features an rpm limiter which can be adjusted in 500 rpm increments between 6,000 rpm and 14,000 rpm for optimized launches when the gate drops. Both systems are controlled through the Yamaha Power Tuner App.
With these carefully considered updates, Yamaha plans to take the unparalleled racing pedigree of YZ250F to a new level of performance.
2024 YZ250F Features & Benefits
The new 2024 YZ250F takes the superior race-tested qualities of its predecessor and expands them in a lighter, slimmer, sharper and more usable package designed to continue dominating the competition
Completely redesigned aluminum bilateral beam frame based on the flagship YZ450F provides the perfect balance of straight-line stability and cornering performance
Revised, fully adjustable KYB® coil spring-type fork with speed-sensitive damping now includes hand-adjustable knob for toolless compression adjustment
Linkage-type rear suspension features a fully adjustable KYB® shock with revised settings for enhanced performance
A flatter, more narrow body design eases rider movement and updated ergonomics offer increased legroom and more comfort
Advanced 250cc four-stroke engine features a high-spec piston, aggressive cam profiles and forward positioned intake cylinder head layout for a broad, useable powerband
More efficient intake path further boosts mid- to high-rpm engine performance
Innovative wrap-around exhaust design improves mass centralization and power characteristics
Ultra-compact 44mm Mikuni® throttle body ensures optimum fuel atomization while saving weight and improving mass-centralization
Revised Yamaha Power Tuner App is even more user-friendly with intuitive new "Quick Setting" slide bar, helpful new engine and suspension tuning guides, and additional new features
New three-level selectable Traction Control System controlled through the Power Tuner App maintains ideal rear wheel traction
Updated Launch Control System now features adjustable rpm limiting for improved launches when the gate drops
Two-mode adjustable engine mapping allows on-the-fly selection between two maps via new handlebar-mounted push-button switchgear
Large 270mm front brake disc and 240mm rear disc are coupled with a Nissin calipers to provide exceptional stopping power and control
Durable, large-diameter 15-plate clutch withstands the high demands of motocross racing
Lightweight, tapered 1-1/8-inch aluminum handlebars secure to four-position adjustable handlebar mounts
Wide 55mm footpegs
Compact, lightweight push-button electric start provides effortless restarts
Premium embedded graphics provide excellent durability and scratch resistance
Advanced computer-aided wheel design shaves weight without sacrificing durability
Rear wheel comes laced in a three-cross-spoke pattern for improved impact absorption and rider feel
Race-developed Dunlop® Geomax MX33 tires
Please follow and like us: