Hours on from the dramatic 450SX main event at Houston 3, Ken Roczen has responded to Dean Wilson's apology with the following comment. Roczen accepts Wilson's apology, as one would expect, but is understandably frustrated given the situation. The drama from Tuesday would have only fuelled his frustration.
"Accepted. Also though put yourself in my shoes. It is extra big because these points are valuable and this was mine if you weren't in front of me for 3/4 of a lap. 3 points here, 4 points last weekend… I mean it's starting to get kind of funny. As if it isn't already difficult enough to lead the championship. Then I get 7 points taken away from me. Anyway, I don't want to hold grudges. Just be aware of your surroundings. Thank you."
Roczen then immediately followed up his reply with the following.
"What makes me even more mad is that you got a warning… which is fine… but last week instead of giving me a warning or a fine they take my points…"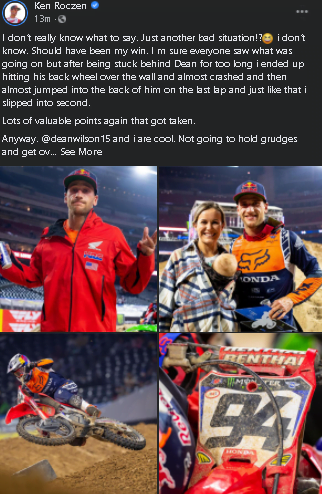 Please follow and like us: