Ecstar HEP Suzuki Ken Roczen provided an injury update immediately after he left the race with pain in the left knee. He only needed two points to catch up to Cooper Webb for third place, but unfortunately, the pain in his knee was too intense, and he couldn't continue racing. During the crash, Ken nearly fell and hyper-extended his knee. Ken in the interview said that he has never had an injured knee before and is unsure of what it looks like, but it's clear that something isn't right. He will undergo an examination to assess the injury.
Roczen said : "You couldn't see much going back across the straightaway, so I took the really high line, but I almost crashed, put my foot out and absolutely hyperextended my knee," he said. "It was sharp pain right away, so that's why I took that lap easy and went off. I've never really hurt my knee, so I don't know what a messed up knee feels like, but it didn't feel good right there. I'm going to have to see what the deal is." 
Hear the update down bellow!
.@KenRoczen94 provides an update on his injury sustained during the 450 Main Event 🗣️

450 Main Event LIVE fueled by @MySmithsGrocery#SupercrossLIVE #SuperMotocross pic.twitter.com/JoL4tgsrFe

— Supercross LIVE! (@SupercrossLIVE) May 14, 2023
Latest Update – Courtney Roczen posted on social media that Ken is all good and nothing is injured!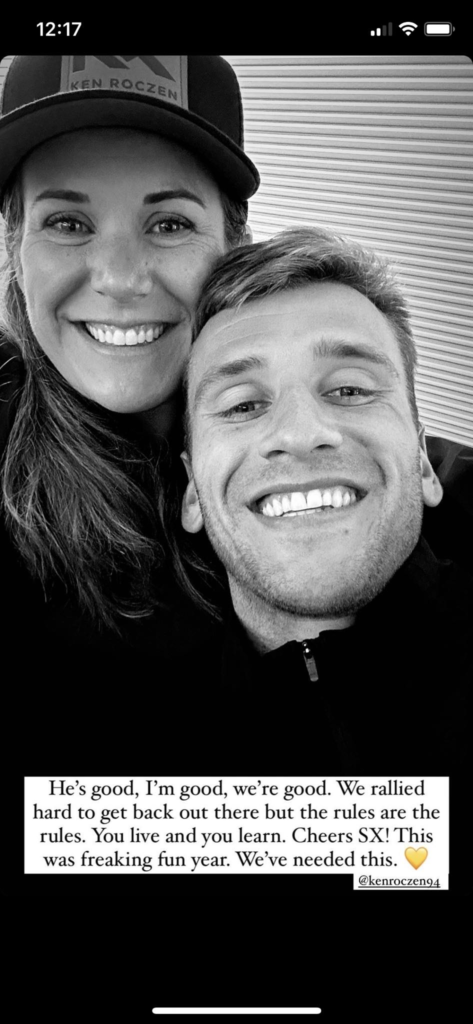 Here is what happened to Roczen
Please follow and like us: