Ken Roczen is the 2022 FIM World Supercross Champ and HEP Suzuki race the fledgling global supercross series, so you would automatically assume Ken would be defending his title with a big number one plate on his Suzuki!?
Well, the problem is the start of the series clashes with the US outdoors and round one is on the Red Bud National weekend! In the press release for Roczen signing with HEP Suzuki, they said Roczen would be riding outdoors in the US – so where does that leave him for WSX?
Steve Matthes of Pulp MX,reported that Roczen will have an option to choose to do WSX with HEP closer to the time so Roczen's summer plans are clearly still not set in stone, but outdoors seems to be the plan as of now.
From what I've been told the plan is for Roczen to race outdoors here but he's got an option if he/the team wants to race WSX instead.

— Steve Matthes (@pulpmx) December 8, 2022
World Supercross schedule can be seen below and will launch in the UK at Premier League football team, Aston Villa's home ground, Villa Park, on the 1st of July. The series then will be heading to France, Asia, Germany, then Canada and finally Australia to round out the 7 rounds, six country championship. But the French SXGP clashes with Lommel, the British SXGP with Red Bud and the German GP with the British MXGP – it will be interesting to see how fans and media manage to keep eyeballs on and give sufficient coverage to everything when it is all going on at once.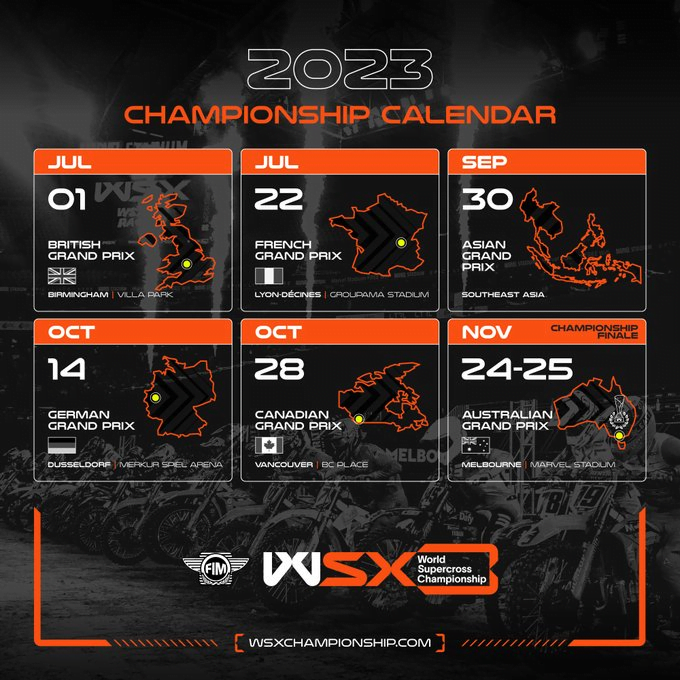 Please follow and like us: