Discover an extraordinary blend of cutting-edge technology and performance in the priciest motocross bikes of 2023. Among them is the revolutionary electric offering by Stark Future, alongside a plethora of internal combustion engine-powered options ranging from meticulously crafted replica racers to an exclusive Italian contender. If you possess the means to transform your tax refund or surplus savings into a premier motocross bike, you may find yourself considering one of these seven exceptional models. Concerned about the five-figure price tags? Fear not, as we have also curated a collection of the most budget-friendly full-size MX bikes.
2023 Stark Varg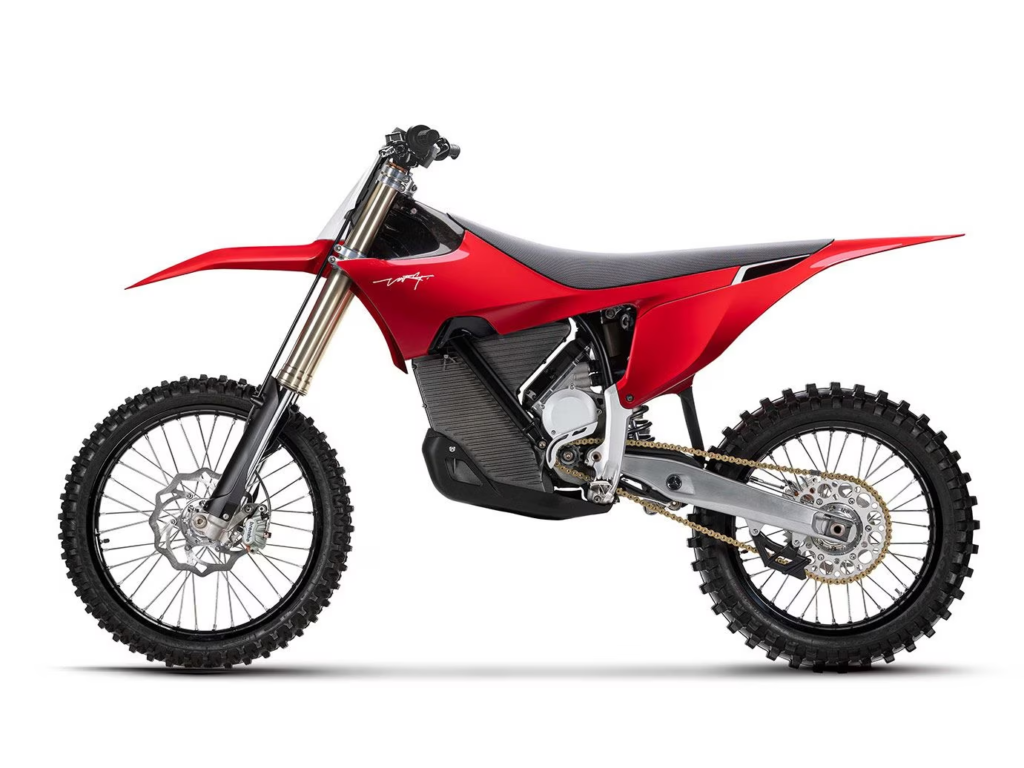 The Stark Varg brings not only modern tech and top-tier components to the field, but it also is a "ride anywhere, anytime" machine with its quiet, low-maintenance, emission-free design. Stark
The Stark Varg is an electric motocrosser that's designed to challenge the current crop of MX bikes. Not only does it promote sustainability, but it's developed to "outperform combustion-engine equivalents in every single way," according to Stark.
It features tech like smartphone app connectivity and customizable power settings that allow it to be multiple bikes in one. It's also loaded with top-quality components like KYB suspension, wheels with CNC-machined 6082-T6 aluminum hubs, 7050-T6 rims, Pirelli MX32 Mid Soft tires, etc
New technology (and great performance) is always expensive, so it should come as no surprise that the Stark Varg has the highest price. It retails for $12,900 for the 60 hp electric motor and $13,900 for the 80 hp option.
2023 Kawasaki KX450SR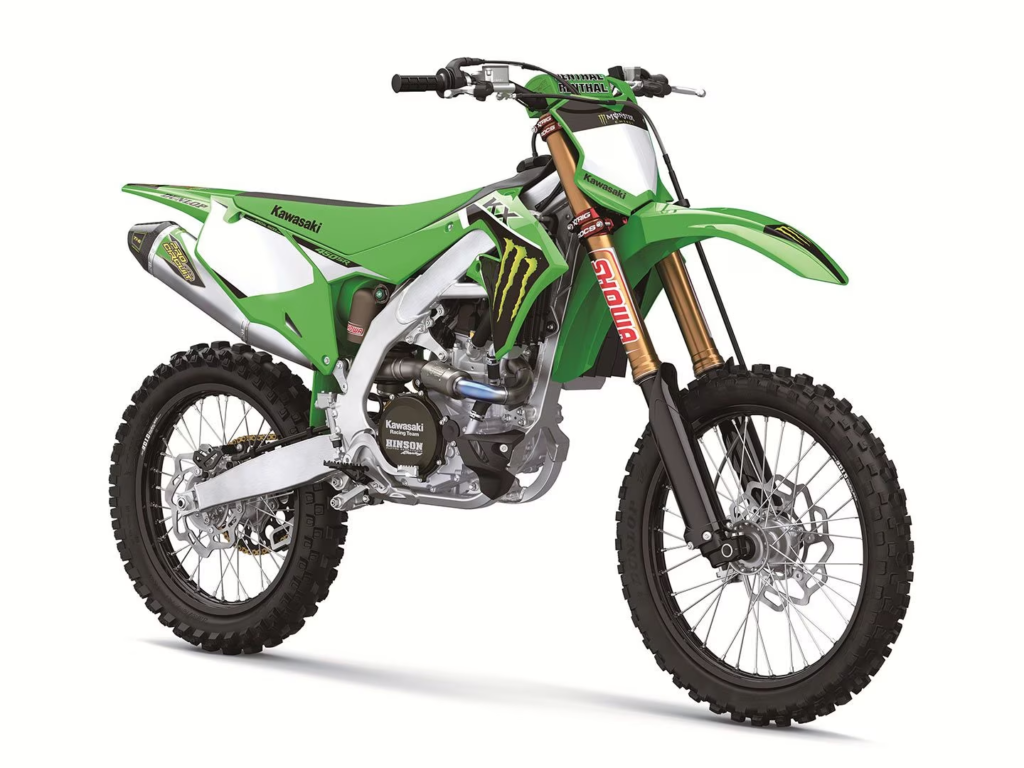 Now in its second year in production, the KX450SR continues to bring factory-level equipment to the people. Kawasaki
Kawasaki's "Special Racer," the KX450SR, has the second highest price tag ($12,699) of these top-dollar MX machines.
As we stated in our first ride review, "The KX450SR (Special Racer) takes all the good qualities of the standard KX450 and adds an extra bit of pizazz. A collaboration of aftermarket heavyweights including Showa, Xtrig, Pro Circuit, Hinson Racing, Renthal, and D.I.D really showcases that the SR edition is top of the line as far as showroom-available 450cc MXers are concerned."
Its fuel-injected liquid-cooled DOHC four-stroke 449cc engine has a modified cylinder head, specific ECU settings, and, like the factory race team, is equipped with a Pro Circuit Ti-6 titanium exhaust to boost performance. It now features Showa suspension with exclusive settings instead of KYB units. This was the big change that was made for 2023.
2023 Honda CRF450RWE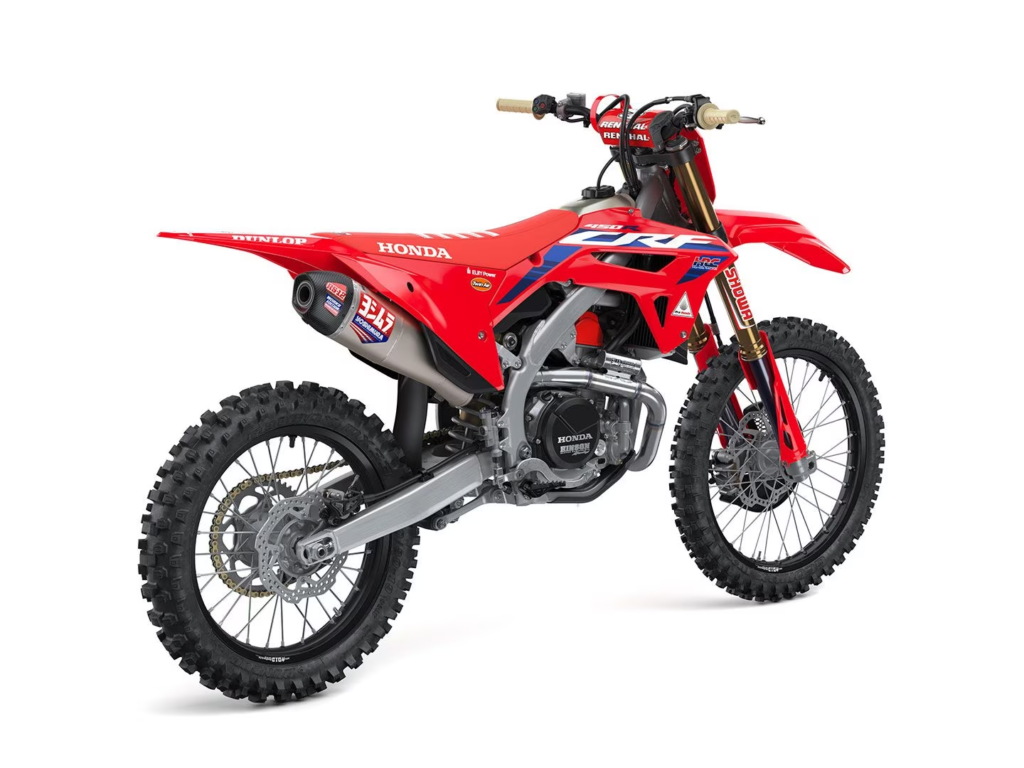 At $12,399, the Honda CRF450RWE takes third on the price podium.
It has its share of special features such as hand-ported cylinder head, special ECU settings, Hinson Racing clutch basket and cover, Yoshimura exhaust, special coatings on its revalved suspension, D.I.D DirtStar LT-X rims, D.I.D-DM2 gold chain, Twin Air air filter, and more.
Like the green machine, the CRF450RWE also has Showa suspension (but offers slightly less suspension travel), Nissin brakes (but with 10mm-smaller discs at both ends), and the same size Dunlop Geomax MX33 tires (80/100-21 front and 120/80-19 rear). Comparing its claimed 245-pound curb weight to the bikes we've covered thus far, the RWE is about 2 pounds heavier.
2023 KTM 450 SX-F Factory Edition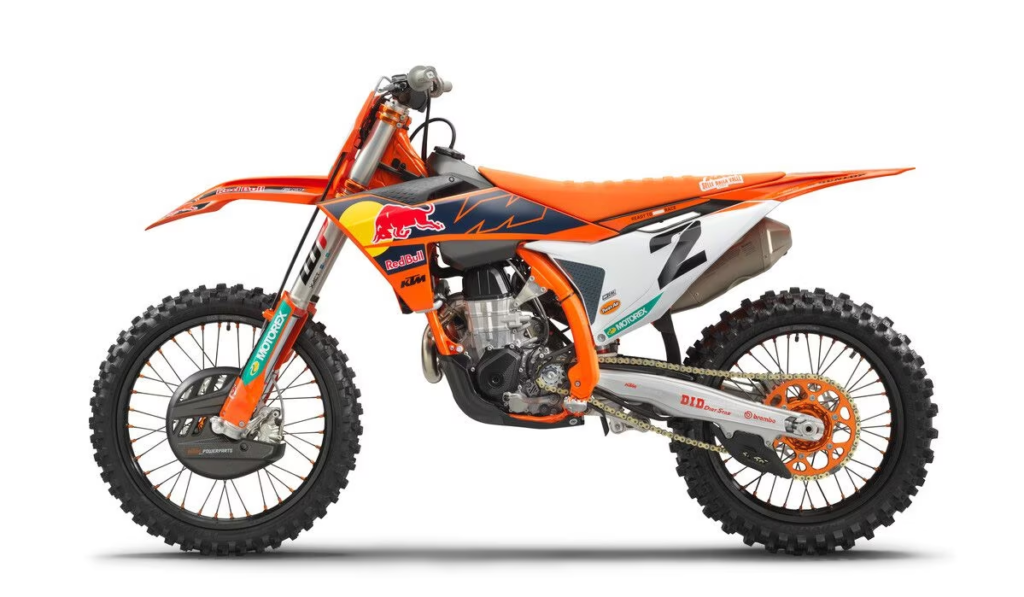 KTM has been at the forefront of special-edition production models since 2012.KTM
When you compare the base-model 450 MX bike pricing, KTM, Husqvarna, and GasGas surpass the Japanese competition. When it comes to special-edition model pricing, however, these Austrian brands undercut the likes of Kawasaki and Honda factory-spec bikes with the KTM 450 SX-F Factory Edition and GasGas MC 450F Factory Edition (tied at $12,099) and Husqvarna's FC 450 Rockstar Edition ($12,199).
What the 450 SX-F Factory Edition brings to the table is a machine powered by a fuel-injected liquid-cooled SOHC four-stroke 450cc engine that features an Akrapovič Slip-On Line titanium muffler and Hinson Racing Billetproof clutch cover. Like the regular 450 SX-F, a vented airbox cover is included with the bike.
There's also other factory touches like the orange powdercoated frame, orange anodized split triple clamps, Factory wheels, a semi-floating front brake disc with a carbon-reinforced front brake disc guard, Selle Dalla Valle gripper seat cover, a carbon-reinforced skid plate, WP holeshot device, orange sprocket, gold chain, and gray ODI lock-on grips
2023 Husqvarna FC 450 Rockstar Edition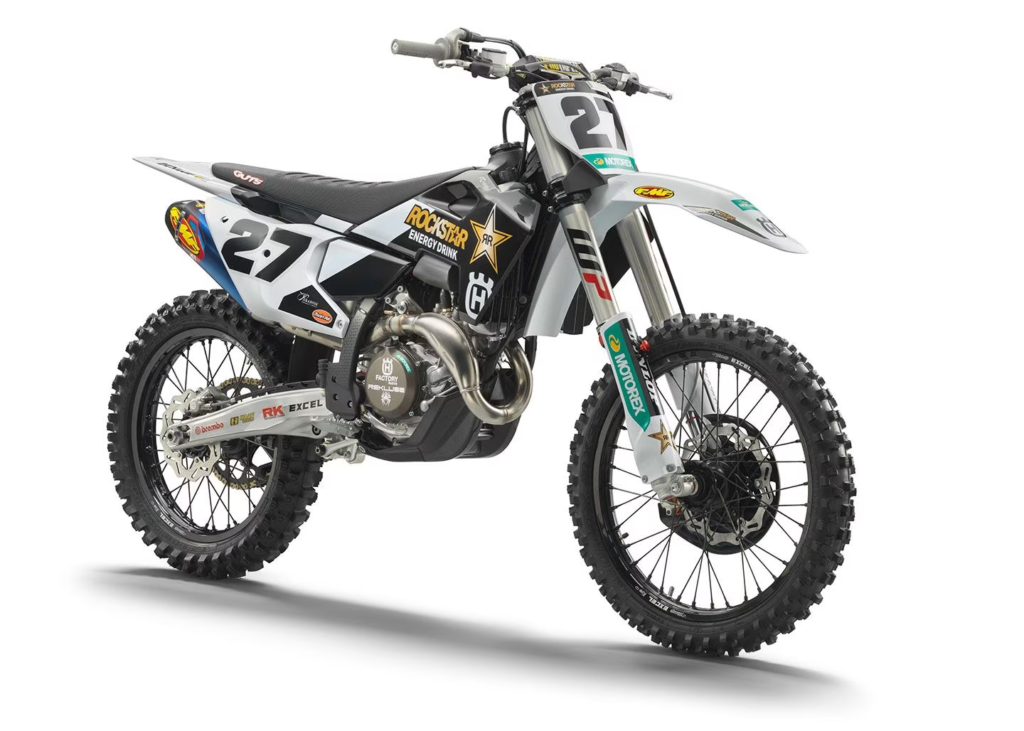 Husqvarna's FC 450 Rockstar Edition comes in at $12,199, which is $100 more than its KTM and GasGas special-edition cousins. Husqvarna
Husqvarna's FC 450 Rockstar Edition has been around for six years, and we've enjoyed the Husky's ease of use and confidence-inspiring handling during our recent testing.
At $12,199, the FC 450 Rockstar Edition is the most expensive motocross bike from Austria. Instead of a Selle Dalla Valle gripper seat cover as seen on the KTM 450 SX-F Factory Edition above, Husky sources a Guts Racing seat cover. Also, instead of the 450 SX-F Factory Edition's D.I.D DirtStar hoops, the FC 450 Rockstar Edition comes equipped with Excel rims and black-anodized hubs instead.
Other components that differ from the KTM include an FMF Factory 4.1 RCT titanium slip-on muffler, Rekluse clutch cover, and of course Rockstar Energy Husqvarna Factory Racing graphics, to name a few. For more information on the goodies that come stock on the Husqvarna
2023 GasGas MC 450F Factory Edition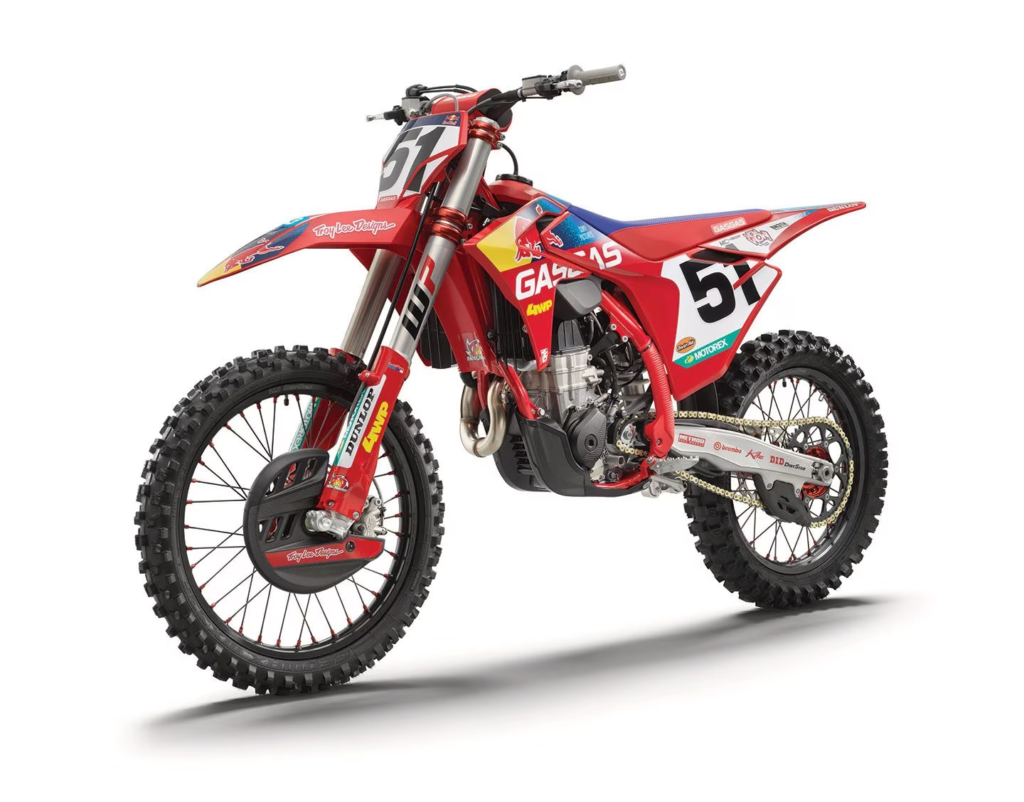 Last year's special-edition GasGas motocrosser, dubbed the MC 450F Troy Lee Designs, was the first of the Austrian brand's race team replica dirt bikes. 2023 marks the second year that GasGas has the factory-spec'd version available, but it's now called the MC 450F Factory Edition.GasGas
The GasGas MC 450F Factory Edition (and KTM 450 SX-F Factory Edition) has the second lowest MSRP of the bunch with its $12,099 price tag.
Among this group of expensive motocross bikes, the MC 450F Factory Edition gets props for having the largest fuel tank at 2.1 gallons, around half a gallon more than Kawasaki's and Honda's special-edition bikes and fractions more than the KTM, Husqvarna, and TM fuel tanks.
The red Factory Edition has selectable maps, traction control, launch control, and quickshift, and also has upgraded its wheelsets to black D.I.D DirtStar rims, spokes, and rear sprocket, red hubs and spoke nipples, and Dunlop Geomax MX33 tires to set it apart from the standard MC 450F.
2023 TM MX 450 Fi ES 4T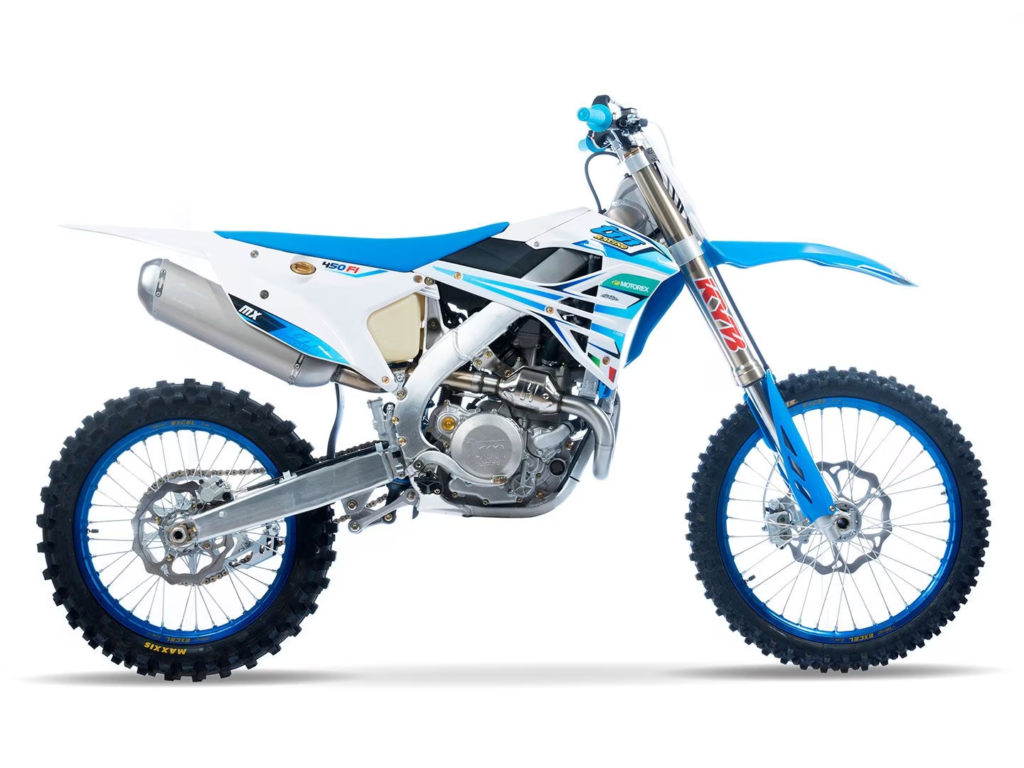 TM's largest four-stroke motocrosser is the MX 450 Fi ES 4T.TM
TM's MX 450 Fi ES 4T has the lowest MSRP of its four-stroke motocross bikes, and the $11,695 sticker price also makes it the least expensive of these pricey 2023 MXers.
Although all of these expensive motocross bikes come from somewhere in Europe, the TM MX 450 Fi ES 4T is the only bike here to hail from Italy. It's unique in that way and the fact that it has a flipped airbox and fuel tank position, and the tallest claimed seat height at 39.4 inches.
Its KYB 48mm coil-spring fork may not be as unique as its rear suspension setup, which is exclusive to the Italian manufacturer; it's the brand's own TM Racing shock. It offers 11.8 inches of travel, a comparable rear suspension travel figure to those of the Austrian bikes.
Please follow and like us: