Press Release
Monster Energy Yamaha Star Racing's Eli Tomac returned to the podium with a second-place finish at Round 14 of the Monster Energy AMA Supercross Championship in East Rutherford, New Jersey. The main event was delayed due to lightning in the area around MetLife Stadium, and once racing resumed over an hour later, the conditions changed from dry to muddy. Even with the challenging conditions, Tomac raced smart and expanded his points lead to 11 with three rounds remaining.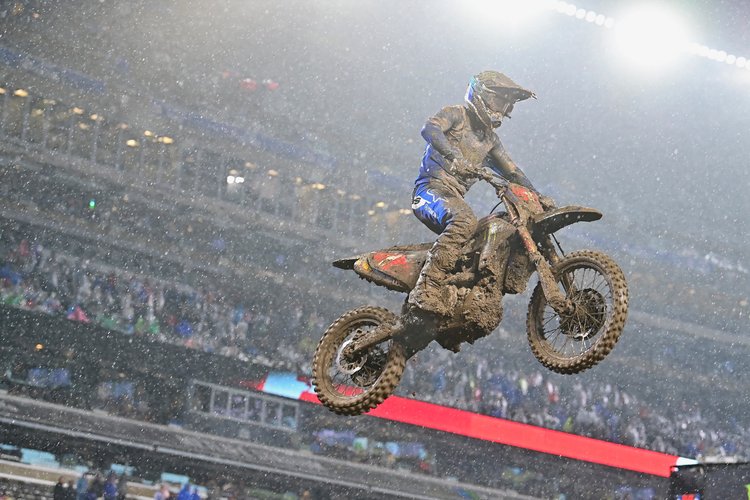 The day got underway with dry conditions and cool temperatures, and hopes were high for Tomac, who had previously earned a win inside MetLife Stadium. In the opening qualifying session, the reigning 450 champ ended up going down, which caused him to miss the remainder of that session. He returned for the final qualifying to finish seventh, also giving him seventh overall heading into the evening.
In his heat race, Tomac worked his way up from a seventh-place start to fourth. As the 250SX class was on the line for their main event, the stadium called for all to head to safety as lightning threatened the area. Once the threat passed and the 250SX class finished its race, the 450SX riders lined up just before 11 p.m. ET to race a shortened, 17 minute-main event. With heavy rain still coming down, Tomac executed a good start and found himself third after the opening lap. He was riding steady and was roughly seven seconds behind third at the halfway point, but he never stopped pushing forward and eventually caught second. Tomac made the pass for the runner-up position on Lap 14 and brought his Yamaha YZ450F home to another podium finish, which extended his lead in the championship to 11 points.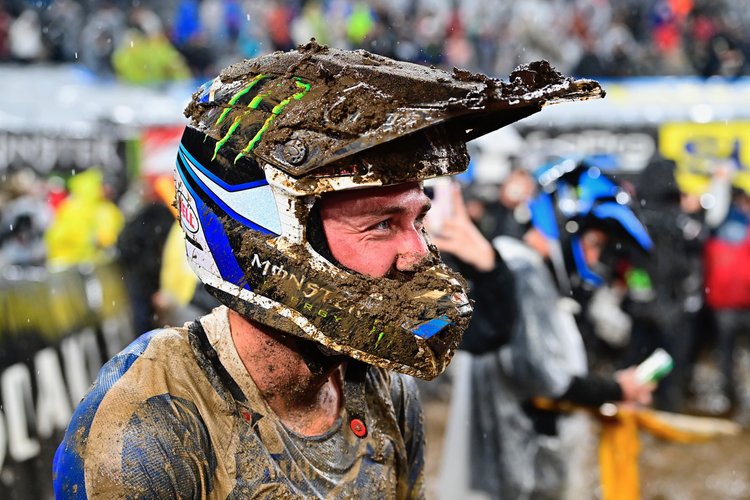 The Monster Energy Yamaha Star Racing team heads to Nissan Stadium in Nashville, Tennessee, next weekend for Round 15 of the Monster Energy AMA Supercross Championship and the SuperMotocross World Championship series.
Jeremy Coker – Monster Energy Yamaha Star Racing 450 Team Manager
"Today was a great day for us. It started a little scary with Eli's crash in practice, and we were a little nervous about how it would go. Fortunately, he was ready for the night show and was able to race the heat and learn the track. For the main event, the "great equalizer" showed up with the rain, and Eli rode phenomenally. We had a big points gain and are feeling good for the rest of the season."
Eli Tomac – Monster Energy Yamaha Star Racing
"It was an exciting night of racing, and you really never know what you're going to get with these mud races. The most important thing is to ride loose, have a good flow, and start the lap clean. That was a big focus of mine – to get off the start clean and keep my vision clear. We were able to do that, so that was huge. Then after that point, it is all about managing your motorcycle, and I was able to do that. Overall it was a good day. I was able to gain some points on the night, and I'm happy with second."
Please follow and like us: