Monster Energy Pro Circuit Kawasaki Austin Forkner had a challenging outing at the Washougal National, as he encountered a rough start that set the tone for the day. Despite the fortunate outcome that it wasn't worse, he expressed his determination to improve his performance. The disappointment extended to the second moto, where he felt the need to ride faster, be fitter, and secure better starts. During the race, Forkner found himself entangled with another rider's rear wheel, resulting in a dramatic scene as he was dragged down the start straight, leaving his chest, side, and back scraped and battered. Nevertheless, he showcased his resilience, vowing to "live to fight another day." Despite being last in the first moto, Austin was deeply grateful for the unwavering support of the fans who cheered him on every lap. Their encouragement served as a driving force, and he extended a heartfelt shout-out, acknowledging their incredible awesomeness.
Austin posted on social media: "Well that's what happens when you get a bad start, super fortunate that it wasn't worse but man I gotta be better. Disappointed with how I rode in the second moto as well, need to be faster, need to be fitter and need better starts. Got sucked into someone's rear wheel with my body and drug down the start straight as you can see. Chest, side, and back are super scraped and beat to shit but live to fight another day. Shout out to the fans though, I was last in the first moto after I got back up and heard you guys cheering for me every lap so thanks for that, y'all are awesome!"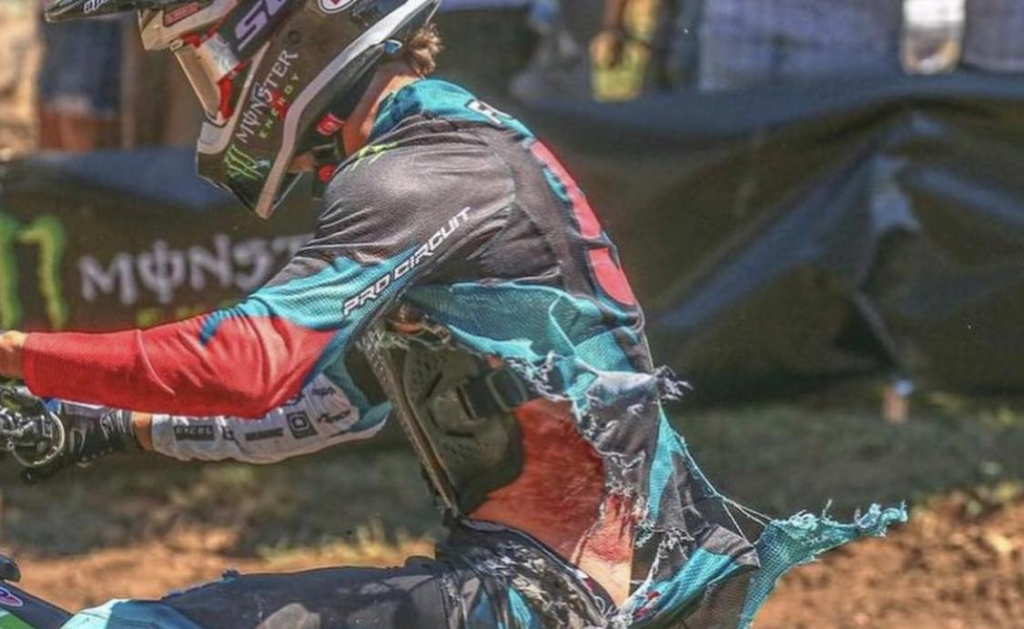 swipe post for other angle of the crash!
Please follow and like us: